Tag Archives:
nba legends
NBA Asia Challenge 2010
Friday, August 27, 2010, 7:30pm, Araneta Coliseum
Red Team
Coach: Tim Cone
Players:
Gary Payton
Glen Rice
Allan Caidic
Atoy Co
Vergel Meneses
Asi Taulava
LA Tenorio
Arwind Santos
Darnell Lazare
Chris McCray
White Team
Coach: Siot Tanquincen
Players:
Chris Webber
Mitch Richmond
Alvin Patrimonio
Benjie Paras
Ronnie Magsanoc
Ronald Tubid
Rico Maierhofer
Dondon Hontiveros
Mark Tyndale
Richie Frahm
Who do you think will win in the NBA Asia Challenge, Red or White Team?
White (90%, 44 Votes)
Red (10%, 5 Votes)
Total Voters: 49
Loading ...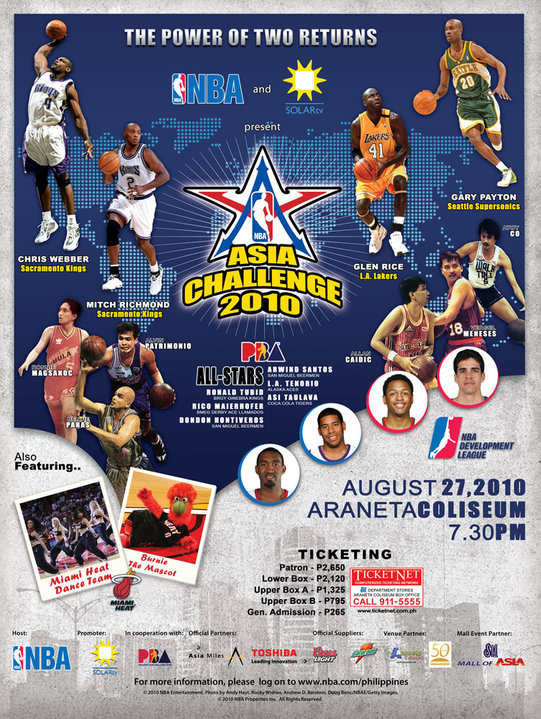 Watch NBA Legends (Gary Payton, Glen Rice, Mitch Richmond, and Chris Webber), NBA Development League players, as well as Pinoy players and PBA Legends (Arwind Santos, LA Tenorio, Dondon Hontiveros, Ronald Tubid, Asi Taulava, Rico Maierhofer, Allan Caidic, Ronnie Magsanoc, Benjie Paras, Vergel Meneses, Atoy Co, and Alvin Patrimonio) on August 27, 2010 at the Araneta Coliseum.
Win Free Tickets! Join the Pizza Hut NBA Asia Challenge 2010 Promo.